Whole School Curriculum Intent
St Georges Academy Curriculum Intent
Titan St Georges Academy is a diverse, respectful and caring community that strives for excellence for every child at every opportunity. We provide a supportive and nurturing environment that enables all pupils and staff to have high expectations and take pride in all their achievements and feel motivated to aspire to be the very best in all that they do, and in all that they are as individuals. We endeavour to instil an understanding of, and mutual respect towards all.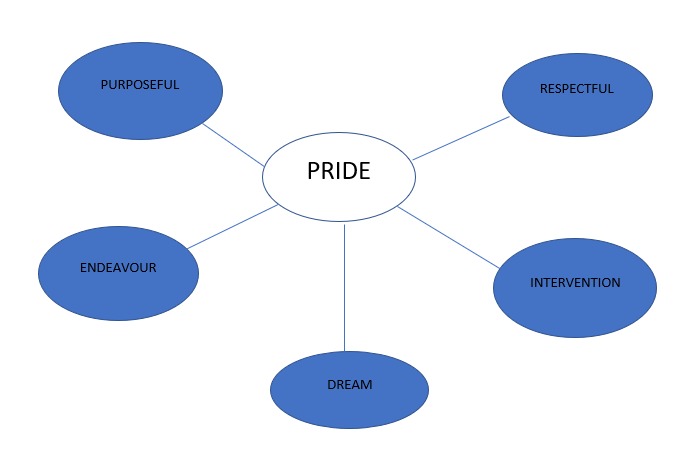 P – Purposeful – Our curriculum is designed to reach individual needs.
R – Respect – Our curriculum is based on respect for ALL.
I – Intervention – Our curriculum aims to intervene when appropriate using the necessary resources.
D – Dream – Our curriculum aims for all pupils to aim big.
E -Endeavour – Our curriculum encourages pupil to work hard to achieve their goals.
Our purpose
To provide our pupils with the skills, knowledge and confidence so they can achieve their learning potential, contribute to society and overcome personal challenges.
At Titan St Georges Academy our curriculum aims for the following:
< >Broad, balanced, ambitious and challenging to meet the needs of all learners.Enables pupils to learn from their mistakes and celebrate their successes.Offers pupils the opportunities to grow as individuals as well as learners.Develops the skills and attributes necessary to be effective learners for life.Has a variety of learning techniques to encourage deeper thinking and literacy skills.Ensures pupils enjoy learning and feel prepared for life after school.Offers new and exciting experiences to pupils.
Year 9, Year 10 and Year 11
ENGLISH - 3
MATHS - 2
SCIENCE - 2
RE -1
PE - 3
PSHE - 2
Drama - 2
Food Technology - 2
ART - 1
Community Project – 4
Stay Positive - 1
ENGLISH -3
MATHS - 3
SCIENCE - 2
RE - 2
PE – 2
Business Studies – 2
Options (Drama, Art, OCR Sports Studies, BTEC Home Cooking Skills) – 2
Art - 1
Drama – 1
PSHE - 1
BTEC Travel and Tourism – 1
Careers – 1
Educare – 1
D of E - 1
ENGLISH -3
MATHS - 3
SCIENCE - 2
RE - 2
PE – 2
Business Studies – 2
Option (Drama, Art, OCR Sports Studies, BTEC Home Cooking Skills) – 2
Art - 1
Drama – 1
PSHE - 1
BTEC Travel and Tourism – 1
Careers – 1
Educare – 1
D of E - 1
Key Stage 3 Curriculum
In order to deliver the aims of our curriculum we ensure all students in Key Stage 3 study a broad and balanced curriculum, with a mix of vocational and therapeutic lessons. Where appropriate, each subject uses the National Curriculum as a basis for determining what is covered at Key Stage 3 and then adapts the content to suit individual learners. Our key stage 3 curriculum aims to equip students with skills to move on to an individually tailored timetable at key stage 4. At key stage 3 we offer a community project lesson with the aim for students to plan and contribute within the local community, as well as visiting local heritage sites, gaining an understanding of the history of our city. We also teach students key social and life skills in PSHE lessons, which enriches students with life skills and the opportunity to apply them out side of the school boundaries and hours. We endeavour to offer a broad a curriculum as possible to ensure students have the skills to take in to their future life's.
Keys Stage 4 Curriculum
At Titan St Georges Academy we offer a broad and balanced curriculum model. We believe in offering subjects that allow a wide range of pathways and progression for our students in the future. Whilst continuing to offer our core subjects, pupils have the option to choose vocational subjects tailored to their needs and future aspirations. All pupils at key stage 4 will study English, Maths, Science, RE and Business Studies, which is then topped up with a pathway option which includes Drama, PE, Food Technology, Art and Travel and Tourism. Pupils prior data/ achievements are taken in to account when options are chosen. We also offer key stage 4 pupils a Careers lesson with the aim to provide them with the tools to move on to further education or an apprenticeship, as well as the skills to contribute to the local and national workforce. PHSE is also placed highly within our curriculum, focussing on current trends and educating pupils around British Values.
Assessment
A variety of assessments methods are used at Titan St Georges Academy to determine both students strengths and areas to improve, and when required, put the appropriate interventions in place. Assessment is modelled on students mastering and retaining subject knowledge, and there to ensure all students can attain the best possible educational outcomes. At Titan St Georges we collect data for all subjects 6 times per year and use this as a basis for planning quality and engaging lessons tailored to all levels of pupils ability. Assessment Data is carefully monitored by the Academies Assistant Head Teacher in charge of data.